WHAT SCREAMS I HEAR ARE MINE
(full length, 3 m, 3 w)
Fourteen year old Dana has a lot going on right now. Her dead mother's diary seems to be bleeding. Cuts have been mysteriously appearing on her arm. Oh, and she's pretty sure she heard a woman being raped one night. She comes forward to the community, and none of the adults believe her. Against her older sister's wishes, she recruits her friends to find the culprit.. Once she finally discovers the identity of the rapist, Dana has to choose between telling the truth, and protecting those she loves.
Development: Boston University, Clementine Collective, Tribe Theatre Company, Playhouse on Park
Honors: National Partners of the American Theatre Playwriting Award, 2018 Semi-finalist for O'Neill Playwrights Conference
IF YOU GIVE A KID A SUCKER
(full length, 5 w, 2 m)
Wasted in an Airbnb in Paris, Nadia asks herself: Is life worth living if nobody thinks you deserve to live? By turning back the clock, Nadia illuminates the events that left her shacked up with a girl she used to babysit when she was 16. If You Give A Kid A Sucker is the raucous confessional of a monster you didn't know was hiding under your bed.
Development: Boston University's New Works Festival
Honors: 2018 Finalist for Campfire Theater Festival
THE HUNCHBACK OF CAMDEN, MAINE
(full length, 1 nb, 5 w, 4 m)
Reggie Blumenthal has been locked in their attic ever since they were born under the questionable care of their sister, Kennedy. But when word reaches them that Kennedy's high school is hosting their own comic convention, they sneak out to join the fun. As the head of the Hall Monitor Brigade, Kennedy does her best to squash subversives, namely he nemesis and Reggie's new pal, Tricia Curtis. Finding themselves an the battle over the values of the local high school, Reggie must find the bravery to show the world they are not a monster.
Development: Boston University's New Works Festival
(one act, 2 w, 2 m)
Everyone knows Hal's been in a bit of a slump since his ex dumped him three months ago-but his roommate Eli has the perfect plan to pull him out of it! Can a blind date restore Hal to his former glory? With high jinks galore, this dystopian Friends episode may not be what it seems.
(full length play with music, 6 w/nb)
Portals. Parallel Universes. Boy Bands. Ever since their bass player Powell up and left last summer, the band hasn't quite . . . worked. But after a new friend convinces them to play again, things start happening! Miles and Jeet plan to play on New Years! Jadyn agrees to hold auditions! And Norbu . . . can open portals with his music? With thousands of worlds of possibilities at their fingertips, the boys have to decide what is worth sacrificing for friendship.
Development: Boston University Sunday Sitdown Series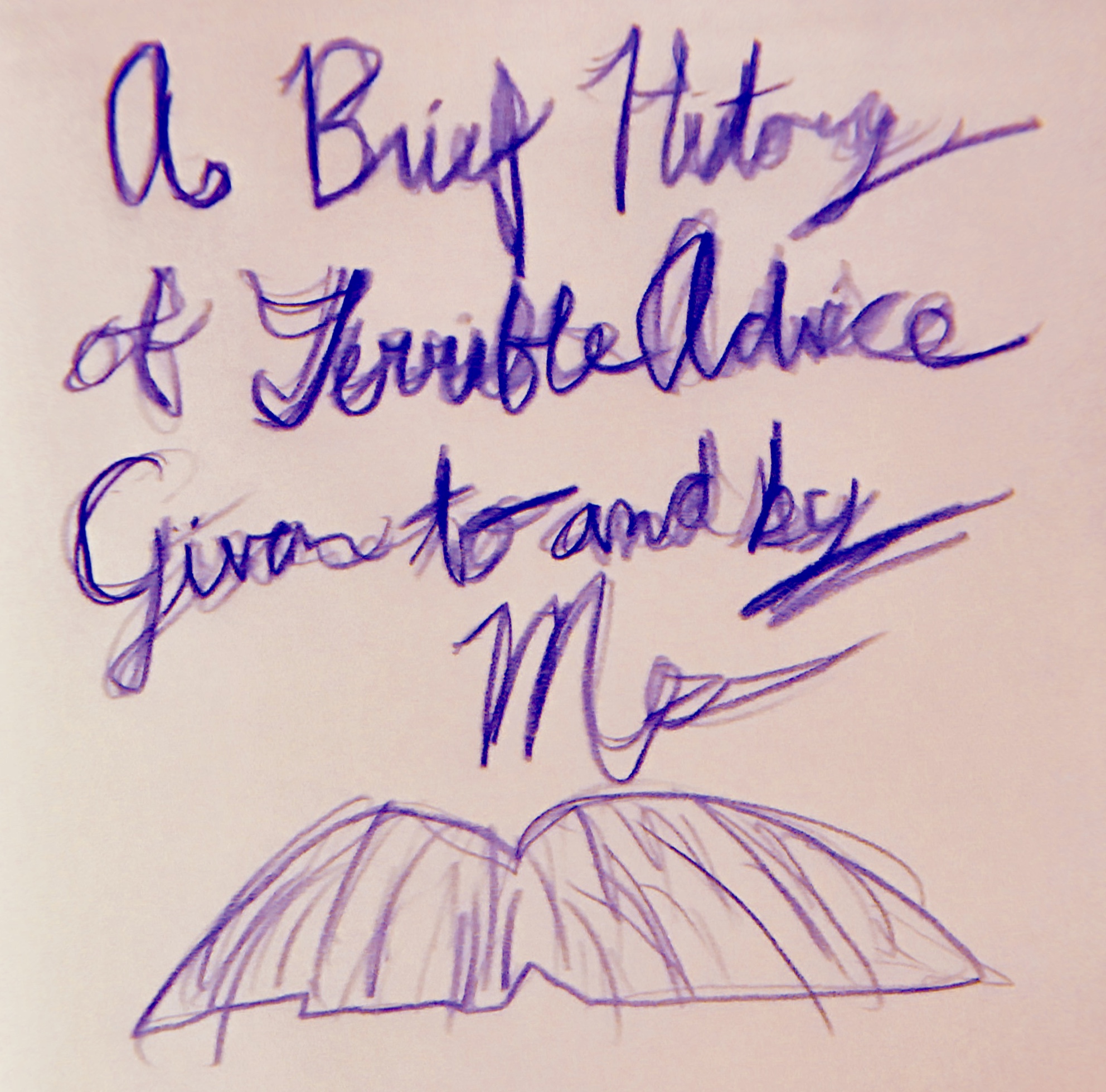 A BRIEF HISTORY OF TERRIBLE ADIVCE GIVEN TO AND BY ME
(full length play with music, 1 m, 1 w)
Early on a Saturday morning, college drop out Celly is visited by her old friend Wardo. After undergoing a program that definitely wasn't rehab, the rockstar who practically raised her wants her to go on tour with him. So begins a dive into a broken kaleidoscope of crossed wires, displaced trauma and terrible advice. Will Wardo give Celly the life she's always wanted? Can he even fathom what that is?